Denyse O'Leary writes (ironically in a UD post that has attracted 500+ comments, in none of which is the word mentioned, or the topic touched):
Materialist neuroscience has a hard time with qualia because they are not easily reducible to a simple, nonconscious explanation.
And she is not alone in this view.  I would agree that "materialist neuroscience" does have a Hard time explaining qualia, but that's not, in my view, because qualia are some mysterious extra thing that neuroscience has to explain but because they are not – they are intrinsic, I would argue, to the ability to act as an intelligent autonomous agent capable of navigating the world, making use of its resources and avoiding its hazards.  Which is another way of saying they evolve, but that's not what I'm interested in arguing right now (although I do think it lies at the heart of the ID case).
The point of the cartoon (or at least the reason I posted it) , is that when we postulate a "philosophical zombie" we postulate a physical simulacrum of a person but with something missing.  However, a philosophical zombie, being, by definition, undifferentiable from a normal person, cannot be any scarier than a normal person.  The difference between a person and a p-zombie, is not detectable by any independent observer.  Hence the Hardness of the Problem for science, which relies on independent observation in order to allow conclusions to be drawn.
If a person really does consist of their material contituents arranged into a person-capable system plus Something Else (S+) where that S+ is not necessary for its person-capability, then it is certainly not possible for science to detect, or detect the absence of, the putative S+. And yet, the argument goes, that doesn't mean the S+ doesn't exist, and moreoever, we have direct subjective evidence of it in the form of qualia.
My p-zombie may recoil from a hot plate just as I do, but it doesn't actually feel the pain, it just acts as though it does.  It may weep at the death of its p-zombie mother, but it doesn't feel unhappy, it's just that its serotonin levels adjust in response, and produce behaviour that we  (and it) call "grief-stricken".  It also tells us how it feels, but it doesn't actually feel anything, it just behaves as though it does, including the part that involves telling us how it feels. So  we aren't going to solve the S+ problem by trying to find it.  We won't.  The issue is not how to solve such a Hard Problem, but whether there is a problem at all.  But, contrary to some assertions, saying there is no problem doesn't mean that there are no qualia.  It would just  mean that qualia are the direct result of the physical existence of a being made of the same stuff, in the same configuration, as we are.
So, on the hypothesis that an S+ is not required to account for qualia, how do we account for them?
Qualia are sometime described as  "raw feels" – how something feels without any reference to any link between the thing-felt and anything else.  The paradigm case is  colour sense – we can know what blue is, in terms of its wave-length, in terms of what things are coloured blue, how our colour vision system works, what different blues are called – but there seems something missing from all that – just the experience of blueness, independently of any knowledge about blue.
But that doesn't work, as can be readily shown by the evidence that the perceptual experience of a colour (the "raw feel") is hugely influenced by context.  Check out the brown square at the centre of the upper surface of this cube, and the yellow square at the centre of the surface facing you, then play the video:

And then there's this one of course: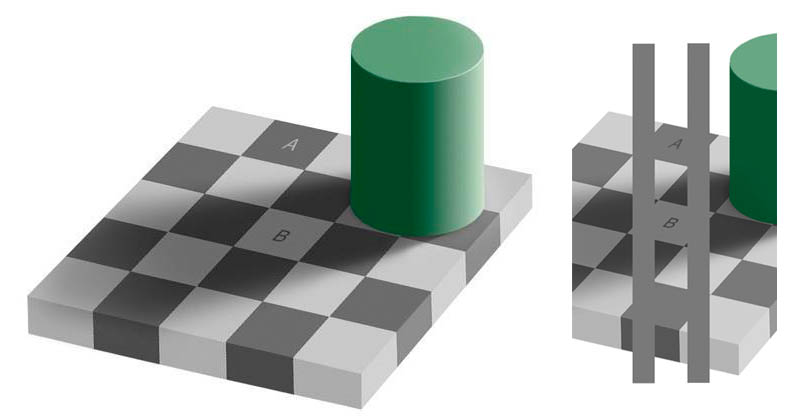 So, I think the idea of representation-free "raw" feels is somewhat bogus.
However, it remains reasonable to ask: how do I know that when you look at the coloured cube and see yellow and brown, which turn out to be the same colour, what you see is the same yellow and brown as I see?  Well, I don't, of course.  So does that mean that there is an S+ that I experience in addition to simply "knowing" that the top square will be perceived by everyone as the colour they call "brown" and the side square will be perceived by everyone as the colour they call "yellow"?  The brownness of that brown percept and the yellowness of that yellow percept?
Well, there may well be something extra.  But while I think it's additional to the knowledge that what I'm seeing will generally be agreed to be yellow/brown, I don't think it's additional to what is explicable in material terms.  I think a p-zombie of me would also see "my" yellow/brown, in other words would have my qualia, and therefore wouldn't in fact be a p-zombie.
I suggest that the additional "feel" of yellow is something to do with the vast cocktail of hard-wired and learned associations between yellow and the world – brightness, lightness (yellow activates a double set of receptors), sunlit scenes, bananas, egg-yolks, dandylions, Simpsons, parking restrictions; each of which induces a tiny ghost of a motor response related to those associations, and which we reify as the "feel" of "yellow".
It's probably easier with red, possibly the most canonical colour, used for fire engines, to , to correct errors, to note that you are overdrawn, warn you of danger.  Why red? It's the color of blood, and fire – both exciting and dangerous, warmth, food, hunting, violence, catastrophe.  It's also the colour of a lot of fruit.  Why?  Possibly because fruit needs to be eaten if it's going to be propagated, and evolved to be red because humans notice red (because of fire, blood, etc).  And why are we good at seeing red?  I suggest it's no coincidence that our most sensitive receptors are for red and green – green the colour of "nothing happening" (more leaves, meh), and red the colour of something requiring attention – useful to distinguish between the two, and thus also useful for fruit to turn red when ripe, remaining green while it doesn't "want" to be eaten.  And green is supposed to be a soothing colour (hence "green rooms"). Blue receptors are maybe a bit of a luxury, but perhaps worth having anyway, if only to help distinguish between, say,  purple and red things, or cyan and green things, and perhaps they co-evolved with the colours of fruit and flowers.  Maybe. Maybe it was just a freebie.
My point being, that what seems like a "raw feel" may in fact be a highly processed nutritional supplement of motor response-sets, a kind of "stance" we take towards a colour, superimposed on the specific associations induced by that colour in that context (a red rose vs red sunburn, for instance) – Extra, yes, but not anything beyond the reach of a neuroscientific account.
But that still doesn't address the issue of why that motor set should be experienced,  you (well some) cry.
Well, I think it does.  I think it's key.  The point about a motor program that is activated (even if not executed) in response to a stimulus is that it can both bring in new sensory data (an eye or head movement for instance, or bring something in to touching range), as well as actually alter the world, and the organism's relationships (e.g. spatial relationship) within it. That additional data, and the changes in the world brought about by the motor action then require that the organism updates its world-model, including its own parameters within that model. In other words, an organism that can move (and I think it is no coincidence that organisms with brains are all organisms that can move, i.e. not plants, or even sponges)  must possess some kind of world-model that incorporates the organism itself, as well as some kind of updating system.  This is likely to involve both old maps and potential new maps (so that the organism can make decisions depending on where it will end up, given the next action).  So it has to model itself as a persisting entity with a dynamic relationship with the world.  And we have good neuroscience models for this – we even have robotic models for this.
Now I'm not suggesting that Asimo is any more conscious than the most primitive of aware organisms.  But I am suggesting that inasmuch as Asimo resembles a human being (not much, but a little), Asimo is not a zombie.  Asimo's "experience" may be so simple as to be unimaginable by we whose experience is so rich.  The nearest I can manage is that that dream state where you are looking for something, but you don't know what it is, nor why you want it, but it's important, and stuff keeps getting in the way.
So I suggest that the reason p-zombies are not possible, even in theory, is that anything capable of responding as richly and as flexibly as we can to the world (and which, by definition, it can) must necessarily have a rich and complex map of the past and future world on which the p-zombie itself is represented, and which can be predictively updated in order to make sensible (and even foolish) decisions (interesting that the robotics team can set Asimo's risk threshold.  It must be able to simulate, extremely rapidly, many potential motor responses to a stimulus, and get them on standby in order to react appropriately as more data comes online. Indeed those motor responses must include responses that will bring appropriate data – sensory input – into the system, and ready potentially appropriate motor programs.  In other words, it must have qualia.
I rest my case.